Campus News
March 12, 2021
Dear campus community,
Today marks one year since we as a College changed in response to the COVID-19 pandemic. While this was no easy task for us as a community, we have made great strides to provide the same quality education and college experience in a variety of new ways. This could not have been accomplished without your resilience and resolve during this challenging time, and for that I want to thank you.
With the promise of multiple vaccines and an increased supply, we are diligently planning for fall 2021, where we anticipate an increased ability to welcome more of our community back to campus for an in-person experience, as long as conditions permit us to do so safely.
Though we cannot forecast with certainty, we expect that the majority of our campus community will be eligible to get a COVID-19 vaccine before the beginning of the fall semester. Classes designed for in-person delivery are expected to be delivered face-to-face on campus this fall semester, and staff will be expected to resume their on-campus roles. We recognize, however, that some courses may make use of multiple modes of delivery (e.g., Face-to-Face Switch, Online Synchronous/Asynchronous), and that under special circumstances, some staff may be able to accomplish their jobs partially through telework. As we have in the past, we will maintain our focus on the health and safety of our campus community and adapt as necessary based on public health guidance.

When the opportunity arises for you to receive a vaccine, I strongly encourage you to do so. If you are a Garrett County resident, a vaccine interest form has been developed. For those who reside outside of Garrett County, more information regarding COVID-19 vaccines in the state of Maryland is available. If you live outside of Maryland, the Centers for Disease Control and Prevention (CDC) provides a tool to find your state health department's resources on COVID-19.
Thank you again for all of your efforts and contributions to our campus community, and for your continued commitment to following the Laker Strong guidelines. We will continue to keep you informed as our plans develop, and information regarding COVID-19 at Garrett College is always available on our COVID Resource page.  I look forward to our return to campus this fall and welcoming you back in person.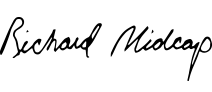 Rich Midcap, Ed.D.
President
Garrett College
---