Campus News
March 21, 2019
'Explore Garrett' Open House sessions planned at Garrett College
Students and parents invited to attend on March 30th and April 27th
The Office of Admissions at Garrett College is busy preparing for two upcoming open house/information sessions for prospective students and parents. These events are scheduled from 9:30 a.m. – 12:30 p.m. on Saturday, March 30th and Saturday, April 27th at the McHenry campus of Garrett College in the Science, Technology, Engineering and Math (STEM) building.
Prospective students and their parents are invited to learn about the admissions and financial aid process, tour the Garrett College campus, including the residence halls and recreational facilities at the Community Aquatic & Recreation Complex. Current GC students will be prepared to share their experiences and answer questions.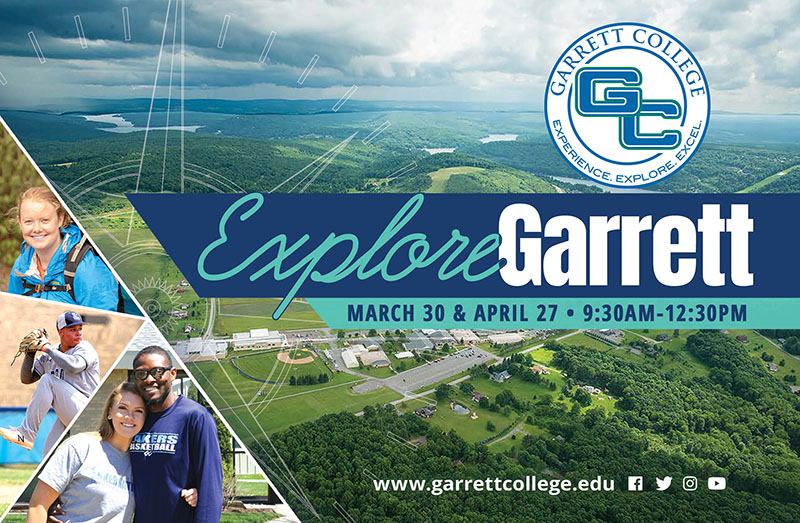 Click the image for more information.
In addition, those in attendance will have the opportunity to learn about the unique programs of study that Garrett College has to offer, including engaging in conversation with program faculty. Representatives will be on-hand to answer questions about seamless transfer agreements that Garrett maintains with four-year colleges and institutions.
Scholarships, financial aid, athletics, on campus housing, and student support service information will be available to share during each session.
"This is a great opportunity for prospective students to learn about the college, meet key faculty and staff, and have specific questions answered," says Mike Tumbarello, director of enrollment management at GC.
Tumbarello added, "Attendees will learn why Garrett College's small class sizes, safe and beautiful campus, great programs, and attractive costs makes for a great choice for local and out-of-area students alike."
Pre-registration is encouraged by visiting www.garrettcollege.edu/explore-garrett, or by contacting the Garrett College Office of Admissions at 301-387-3044 or admissions@garrettcollege.edu. Additional information is available online.