Cybersecurity Lab

Garrett College's new state-of-the-art Cybersecurity lab was built using the U.S. Department of Labor, TAACCCT program funds. The lab is located in a SCIF (Sensitive Compartmented Information Facility). The lab space itself is designed using modular desks, each with their own wide screen monitor and PC, which linked to the instructor's workstation to help aid in instruction. Students can also bring their own devices to connect with the instructor and each other. In the future, Garrett College plans to participate in a regional fourteen-college Cyber Pathways Across Maryland consortium cybersecurity competition funded by the TAACCCT grant, as well as in cybersecurity competitions with colleges throughout the country.
The infrastructure that supports the lab space is on a stand-alone network from the college so that students an engage in real world security exercises without affecting the operations of the college. The lab consists of 20 student workstations each with Core I7 processors, 16 GB RAM, and 500GB hard drives. The server running the network has Intel Xeon processor, 32 GB RAM, and 8TB storage. The technology behind the scenes allows the students to create and administer both physical and virtual networks, to facilitate the learning and skills building exercises to prepare our students for industry recognized certifications in a number of different IT specialties, such as Cisco Certified Network Associate, and CompTIA Network +, Security + ,A+, Linux+. Additionally, Garrett College is offering courses in digital forensics using both the Pro Discover and EnCase software tools where our students learn how to preserve, recover and analyze digital information to be used in investigations and security audits. Future plans include the addition of fifteen Mac laptops to permit students to conduct course studies and cybersecurity exercises using the Mac operating systems for a broader experience.
---

What is Cybersecurity?

Cybersecurity is the body of technologies, processes and practices designed to protect networks, computers, programs and data from attack, damage or unauthorized access.

Entry Level Cybersecurity Careers

Why is Cybersecurity Education Important?

Cybersecurity education provides practical, hands-on instruction to help students gain knowledge and skills needed in the field. A well-designed curriculum includes a wide variety of courses in computer and network security such as Networking Fundamentals, Cisco courses (CCNA), Security+, A+, Computer Forensics, Ethical Hacking, Cyber Law and many others. In addition to face-to-face instruction, courses can be delivered in online format to meet the needs of working professionals and the adult student population. A program should be geared toward graduation preparation with career goals such as information security, computer network security, and/or network administration in mind.

Garrett College Cybersecurity Career Pathway (click to view)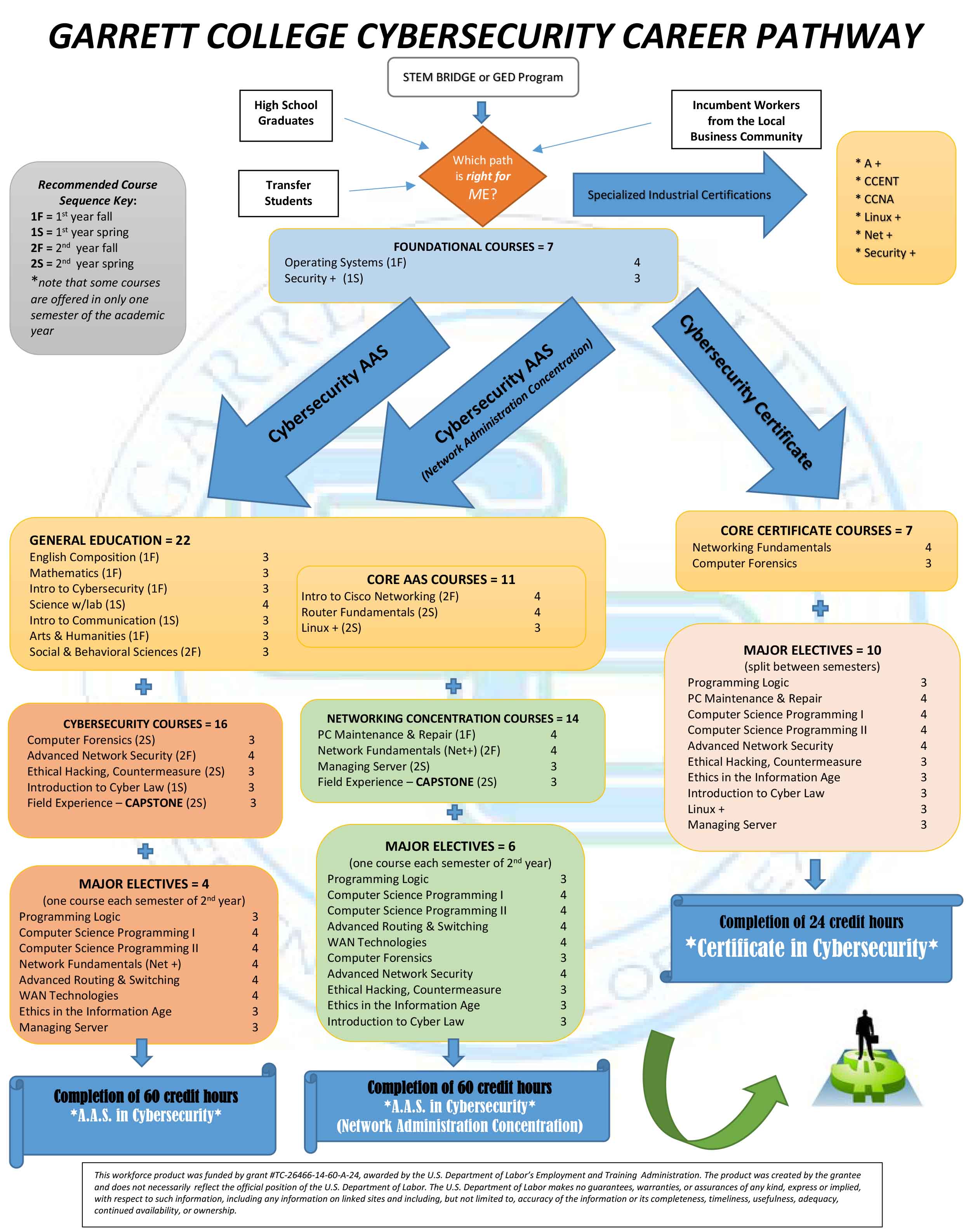 ---

Check out what our students and staff are doing!

2017

May:


- NEW one-credit course offered for students in ALL majors: Intro to Security Clearances and Background Checks (CIS 290-90).
The need for a security status is prevalent in all industries. All occupational specialties require employers to have a pool of potential employees who have the ability to meet and pass the challenges of rigorous background check and security clearance screening processes. This course will assist students in navigating the delicate and often complex process of seeking, obtaining, and maintaining a security clearance. Emphasis will be placed on how to recognize, identify, and avoid actions and behaviors that hinder the process. Click the flyer for more information on how to register:



April:

Garrett College Students Attend Second Cybersecurity Industry Expert Day

Garrett College and First United Bank Partner to Facilitate Simulated Cyber Disaster Exercise

March:

Garrett College will send two teams of students to participate in the 2017 Maryland Community College Cyber Competition hosted by the Montgomery College CyberLab on Tuesday, March 14th, 2017 10AM-4PM at the Germantown Campus. The top performing three teams will win prizes in the "Capture the Flag" format competition. Good luck, Garrett! *Update: the competition has been postponed until April 7, 2017 due to inclement weather.*

Garrett College Cyber Team will participate in a virtual five-day reverse engineering (RE) capture-the-flag (CTF) competition hosted by Dakota State University (DKU) and the University of Nebraska-Kearney (UNK.) The competition will begin at 8am central the morning of Monday, March 27th and end at 10am central the morning of Friday, March 31st.


2016

November:


-
NICE Conference and CAE Community Meeting
-
An Introduction to Security Clearances and Background Checks


October:


-
Why Cyber Security Matters So Much NOW
-
The Weakest Link: How to Avoid Our Biggest Mistakes When It Comes to Protecting Assets in Cyberspace
-
Technology at the Gap: Emerging Trends 2016
-
Cyber Maryland


July:


-
3CS (Community College Cyber Summit)

-
GC Staff Attends Third Annual Cyber Security Conference


June:


-
C.I.S.S.E. (Colloquium for Information Systems Security Education)




2015



June:

-
CISSE Conference-The Colloquium for Information Security Education
October:

- Cybersecurity Month- Participated in the various activities offered throughout the college.
- Play Cyber trivia; cyber jeopardy; and other fun learning activities!
- NIST Small Business Cyber Security Training Oct 23, 2015
-
Attended CyberMD
November:

-
Attended CAE Community Meeting
-
Attended NICE Cyber Conference
CPAM (Cyber Pathways Across Maryland) Cyber Competition beginning soon!!
---

Why are Industry Certifications in Cybersecurity Important?

With IT job openings being created faster than trained people can be found to fill them, IT certification is the best way to open the door to a higher salary, more opportunities and career fulfillment. Industry certification courses, such as CompTIA, (ISC)2, and CISCO, are best suited to employees with IT experience who need assistance preparing for certification exams in A+ , Network+ , Security+ , CCNA.
Certification classes offered in both credit classes and Continuing Education and Workforce Development classes will enable students to earn various industry recognized credentials or certifications. The training will be designed to meet the needs of students new to Cyber Technology as well as enhance employ-ability for individuals who have already earned an AAS or BS degree.
More IT professionals are getting certified than ever before because IT certifications:
Validate your knowledge and skills
Help you remain competitive and employable
Give you job proficiency more quickly
Show dedication to your career
---

Why is Cybersecurity Important to Your Business?

Because of daily threats, you need employees who can identify vulnerabilities before they can be exploited by hackers. In addition to prevention, your team may need forensic techniques to recover evidence of cyber crime.
| | |
| --- | --- |
| | This email address is being protected from spambots. You need JavaScript enabled to view it. |
"This workforce product was funded by grant #TC-26466-14-60-A-24, awarded by the U.S. Department of Labor's Employment and Training Administration. The product was created by the grantee and does not necessarily reflect the official position of the U.S. Department of Labor. The U.S. Department of Labor makes no guarantees, warranties, or assurances of any kind, express or implied, with respect to such information, including any information on linked sites and including, but not limited to, accuracy of the information or its completeness, timeliness, usefulness, adequacy, continued availability, or ownership."