Explore Garrett
Adventure Sports & Natural Resources & Wildlife Technology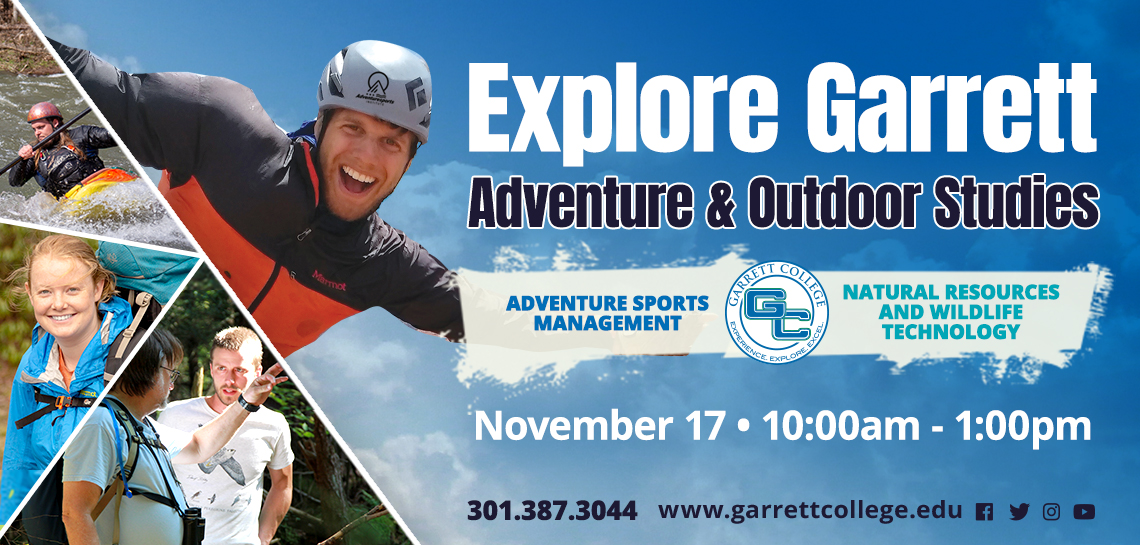 Event Details
Date: Saturday, November 17th, 2018
Time: 9:30 a.m. – 1 p.m.
Schedule of Events
9:30 a.m. Light Breakfast
10 a.m. Welcome
10:30 a.m. – 11:30 a.m. Breakout Sessions for Each Program
11:30 a.m. – 12 noon Walking Tour of Main Campus, STEM building and Community Aquatic & Recreation Complex (CARC)
12:30 p.m. – 1 p.m. Lunch at Center for Adventure and Outdoor Studies (CAOS) Building
Optional after lunch: Tour of the residence halls.
Itinerary Highlights
Learn all about Garrett's signature programs – Adventure Sports Management and Natural Resources and Wildlife Technology. Both of these programs are unique in the state of Maryland and provide experiential, hands-on education to students interested in outdoor studies.
Meet representatives from each program, including faculty, current students, and alumni, to learn about the coursework, fieldwork and career opportunities.
Learn about the admissions and financial aid process, including on-campus housing options
Tours of the Garrett College campus and facilities, including the residence halls and the Community Aquatic and Recreation Complex, will be provided.
Contact Us
For more information, contact the Garrett College Office of Admissions at 301-387-3044 or admissions@garrettcollege.edu