Campus News
May 21st, 2022
GC's 50th commencement focuses on Class of 2022
Celebration of graduate achievements and accomplishments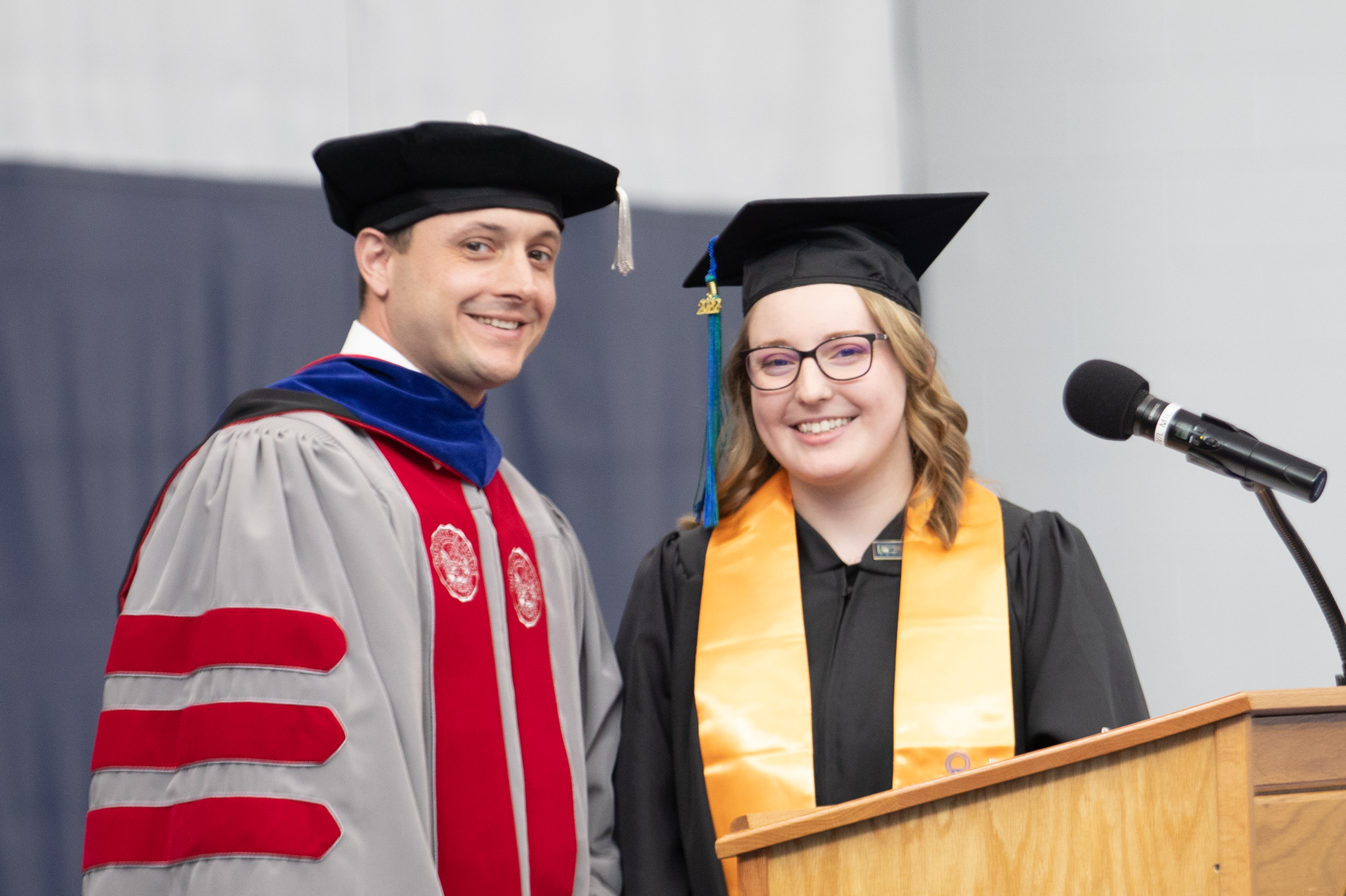 Oakland resident and elementary education major Kristen Massey is pictured with Dr. Ryan Harrod, GC's dean of academics, at Garrett College's 50th annual commencement ceremony on Saturday, May 21, 2022. Smoke N Mirrors Photography
---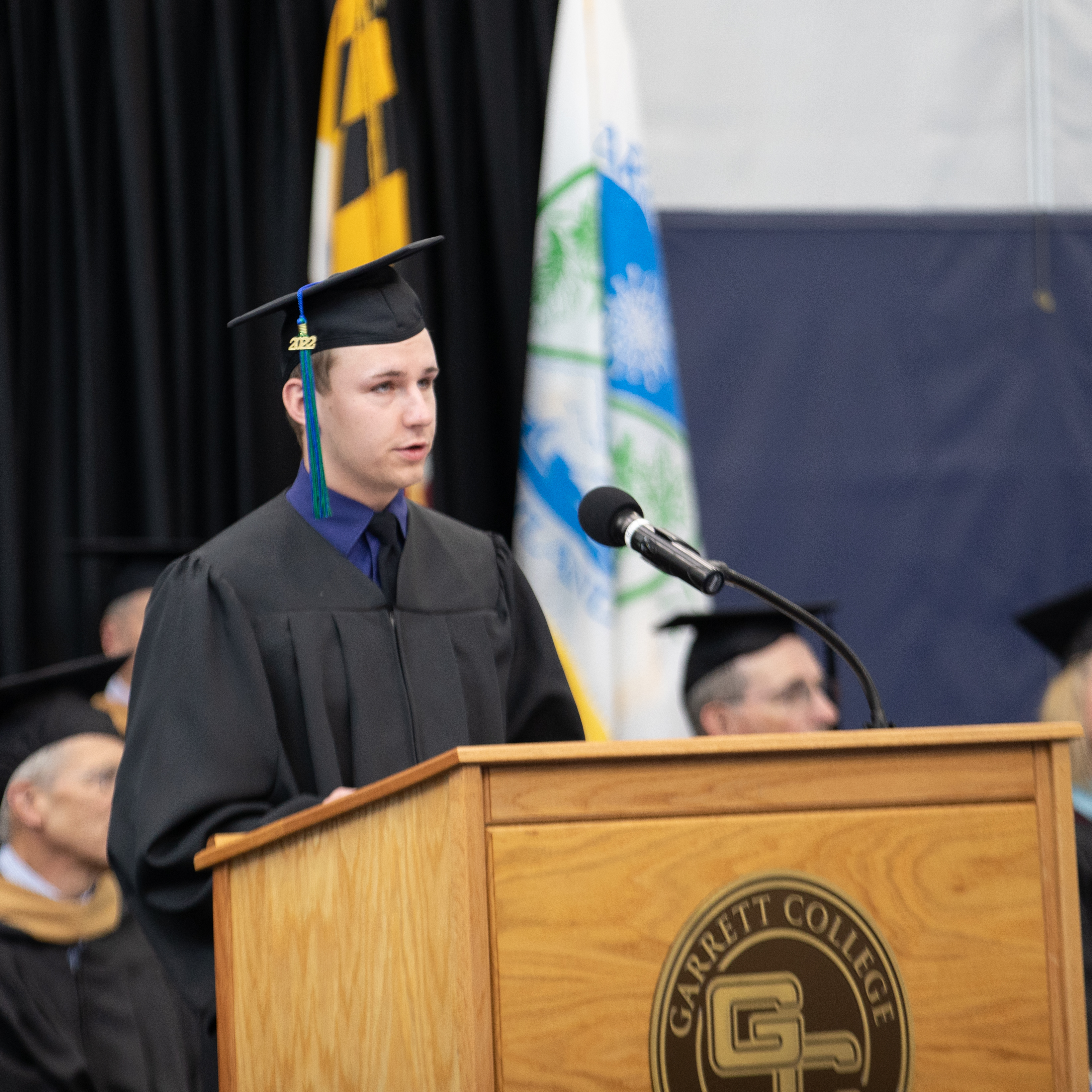 Paramedic studies major Brett Thomas of Barton is pictured delivering a lasting message to his classmates at Garrett College's 50th annual commencement exercises. Smoke N Mirrors Photography
Garrett College's 50th commencement was particularly special as this year's celebration focused on the Class of 2022 itself – by selecting two graduates to serve as student speakers.
Elementary education major Kristen Massey of Oakland, and Paramedic Studies major Brett Thomas of Barton both delivered lasting messages to their classmates.
"Learning never truly stops, and despite which path we choose to take once we leave here today, we will continue to learn new things along the way," remarked Massey, who plans to attend Frostburg State University this fall to pursue a dual certification in elementary and middle school education. "We have been provided with an immense amount of knowledge and so many opportunities to help us grow and develop into the individuals we have been working to be."
Thomas reminded his fellow graduates about their ultimate mission in life – regardless of what their future holds.
"Every graduate in this room today has taken the steps to improve their knowledge in some way, but I think in the pursuit to earn our degrees we all must be reminded of the end mission in our educational journey – to help and improve the lives of others," noted Thomas, who is currently employed as an EMT and serves as vice president with George's Creek Ambulance Service while working full-time with the Allegany County Department of Emergency Services.
Dr. Richard Midcap, GC's president, congratulated the Class of 2022 as the 50th graduating class of Garrett College.
"Commencement is always a special occasion, but this one is special in itself," said Midcap. "Your class finishes out a half-century of students who came to Garrett College to pursue higher education, prepare for a career, and begin planning for their future.
"While the honors you've earned today are impressive achievements, I know they will not be your only achievements," Midcap continued. "You have the talent, the tools, and the tenacity to reach the goals that are most important to each of you. I am confident that the 2022 graduating class will be every bit as impressive as Garrett College's first 49 graduating classes."
Several other members of the Class of 2022 were recognized at Garrett's 50th commencement exercises, starting with the renaming of two of the top academic graduate awards in honor of two retiring legislators – Senator George Edwards and Delegate Wendell Beitzel.
Natalie Lehman of Grantsville was named the George C. Edwards Outstanding Transfer Student while Oakland resident Landon Custer was named the Wendell R. Beitzel Outstanding Career Advancement Student.
The Board of Trustees, on behalf of the Garrett College community, also provided each legislator with a resolution thanking them for their combined 56 years of service in the Maryland General Assembly.
Oakland resident Kaylin Paugh and Colten Plum of Bruceton Mills, W.Va. were recognized with the Inspiration and Excellence Award and Leadership and Excellence Award, respectively.
Swanton residents Alex Yoder received the full two-year competitive transfer scholarship to the prestigious Bucknell University while Jarrett Miller was recognized for the highest grade-point average award while completing 60 or more hours of college credits at Garrett.
Brennan White of Frostburg received this year's Scholar Athlete of the Year Award for obtaining the highest GPA as a student athlete.
The following graduating athletes were also recognized: Tyler Rodeheaver (Mountain Lake Park) - Western Pennsylvania Collegiate Conference 2021-22 All-Academic Student Athlete Team; and Noah Korenosi (Johnstown, Pa.), Brandan Myers (Hagerstown), and Trey Weinell (New Alexandria, Pa.) – National Wresting Coaches Association NJCAA 2022 Scholar All-American Athletes.
Two former faculty members were also recognized.
Both Beth Luers and Ben Sincell were unanimously recommended by the College's faculty and awarded the honor of professor emeritus. Luers, a Baltimore native, began her career at Garrett by running a tutoring program and then moved over to the faculty side, eventually teaching development courses, English, history, and cultural geography.
Garrett County native Sincell also spent 32 years on Garrett's faculty, building its theatre program as well as teaching communication courses. Off campus, Sincell served for 20 years as the design and technical director for the Garrett Lakes Arts Festival and held the same role with Our Town Theatre for 16 years.
Vianne Bell, whose 16 years of service on the Garrett College Board of Trustees included five terms as board chair, received the 2022 Board of Trustees Award for Outstanding Contributions to Garrett College.
Notes: GC's 2022 graduating class ranged in age from 19 to 62, with an average age of 23. Approximately 65percent of the graduates are from Garrett County. Of the graduating class, 62 Associate of Arts degrees, 30 Associate of Applied Science degrees, two Associate of Arts in Teaching degrees, five Associate of Science in Computer Science degrees, one Associate of Science in Engineering, and six certificates were awarded.
A total of 47 graduates attended with the support of the Garrett County Scholarship program, at a cost of $271,670. Of the 47 graduates, 27 utilized the Garrett County Scholarship Program as a high school dual enrolled student.
Of the 35 individuals who graduated with honors, 19 graduated cum laude (with honors), seven graduated magna cum laude (with great honor), and nine graduated summa cum laude (with highest honors). Eleven graduates are members of the prestigious Phi Theta Kappa Honor Society.