GED® / Adult Basic Education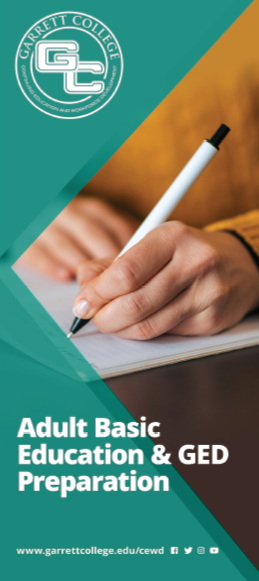 ---
There are countless reasons as to why you should obtain your GED®, some of the most powerful reasons include the change in the job market, as most employers will not hire anyone who does not have their high school diploma or GED®.
Having your GED® can make an enormous difference in future earnings. A study by the National Center for Education Statistics revealed a difference of more than $6,800 per year in average earning between non-graduates and persons who has either a high school diploma or GED®.
You are also setting an example for others in your family (or close circle) to follow. Family members and friends who are still in school or thinking about obtaining their degree, will see how important getting an education will be to their future. Your determination to make your life better will influence others who are struggling. The ripple effect of your efforts can have far reaching results - doing so much good for you and those around you!
It's never too late!
Everything you need to succeed.
It's never too late to obtain your high school diploma and even with a busy schedule, Garrett College has various flexible options available to ensure your education.
Adult basic education courses prepare students to earn their high school diploma, improve reading and math skills, as well as develop job readiness skills.
This program has everything you need, plus more, to get started including supportive teachers, interactive instructional materials, classes & computer labs.
New Ways to Earn Your High School Diploma
Even with a busy schedule, we have several ways to work with it in obtaining your diploma in a timely manner.
Take the GED® Ready Practice Tests to determine if you are ready to take any of the four official GED® Exams.
National External Diploma Program (NEDP) - available to Garrett County residents in partnership with Allegany College of Maryland.
Blended learning – Combine distance/independent learning and classroom instruction.
How do I start?
The first step you will need to take is to schedule an Intake and Assessment Session. These sessions are held monthly and take approximately four hours to complete.
An intake counsellor will assist you with the class registration process held at the end of the session. Contact information in the side bar.
What is the cost to attend classes and participate?
Garrett College provides Adult Basic Education classes FREE OF CHARGE*
*Funding provided by the Maryland Department of Labor
The cost to take each official GED® Exam is $11.25 or $45 for all four tests.
How to register
To schedule your time to take the GED® ready exam and review the process to register to take the official GED® exams, contact Kaitlyn Glotfelty at 301-387-3770 or kaitlyn.glotfelty@garrettcollege.edu.
Where are in-person classes held?
Garrett College offers classes at the following outreach center locations, throughout Garrett County:
Career Technology Training Center,116 Industrial Drive, Accident, MD 21520
Northern Outreach Center, 12601 National Pike, Grantsville, MD 21536
Southern Outreach Center, 14 N 8th Street, Oakland, MD 21550
Plus, various other locations based on need of student enrollment.
When are classes?
Both day and evening classes are available to allow for convenience and flexibility.
Classes will be offered in the evening at the locations listed above from 5pm to 8pm & during the day in Oakland from 11am to 2pm.
Please consult with an advisor to determine your schedule & what works!
---