---
Students will be prepared to work in a variety of medical facilities including doctor's offices, urgent care facilities, and hospitals. The classes listed below teach the skills needed to perform both front and back office services. The curriculum is designed to prepare students to take the National Healthcareer Association (NHA) Certification exams for CCMA, Certified Medical Administration Assistant, and Phlebotomy.
Courses and Program Costs
HM-529

Introduction to Health Care for Medical Assistants

HM-418

Certified Medical Administrative Assistant

HM-530

Administrative Externship

HM-355

Phlebotomy Venipuncture Theory

HM-372

Phlebotomy Externship

HM-531

Medical Assistant Prep for Patient Care

HM-532

Medical Assistant Patient Care

HM-438

Clinical Externship
Pricing Legend

Maryland Senior Resident (60+)
$1,385
Garrett County Resident
$4,605
Out-of-County Resident
$4,835
Out-of-State Resident
$5,065
Time to Complete Program
Approximately 12 months. Classes are held 3 evenings per week. Externship (100 hours) must be completed within 8-10 weeks after completion of course work. A detailed training schedule and course description of each class will be provided during an Orientation and Information Session.
Entry Requirements
Eligibility to participate in the program may be dependent upon a criminal background check.
Certification that vaccinations for MMR, TB, PPD, Hepatitis B, COVID-19 and flu are current if required by the externship location.


The cost of the vaccinations is the responsibility of the student.

Sites for externship/clinical hours may require random drug testing.
Students must have transportation to complete externship hours within a 50-mile radius of Garrett College.
A $25.00 non-refundable registration fee is required from all students.
Students are required to have a High School Diploma or equivalent.
Students are required to take the TABE Assessment prior to enrollment.
Students must participate in an Orientation and Information Session.
Students must maintain a 75% average in each class and meet attendance requirements to progress to the next course.
Location of Training
Career Technology and Training Center (CTTC)
116 Industrial Park
Accident, MD 21520
Externship
Conducted at various medical facilities
Certifying Professional Association/Agency
National Healthcareer Association (NHA)
Upon Successful Completion
Students will be prepared for an entry level position as a Certified Clinical Medical Assistant, Phlebotomist/Venipuncture Technician, and Certified Medical Administration Assistant.
Pass the National Healthcareer Association (NHA) Certification Exam
Occupational Outlook
Employment of medical assistants is projected to grow 16 % from 2021 to 2031, much faster than the average for all occupations. About 123,000 openings for medical assistants are projected each year, on average, over the decade.

Registration Deadline
AUGUST
17
Program begins on 9/7/23 and ends on 9/13/24*.
*Course details could be subject to change, call or email for more information.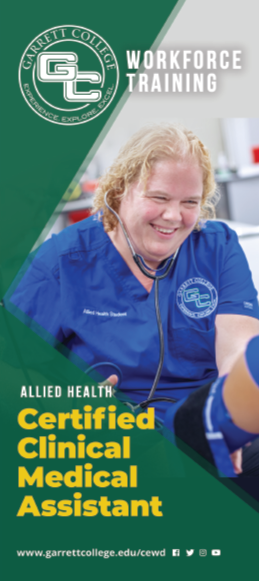 ---
Register early for best scholarship and/or financial assistance opportunities!
---
To determine scholarship or funding opportunities, please indicate your interest when submitting your application form.
---